Several tech entrepreneurs have become celebrities in the recent past. Thanks to the media covering them extensively and sometimes sensationally, they continue to inspire awe and admiration. Since the advent of the internet, this breed of businessmen and women has been on the rise. They have become larger than life, taking the same rank on the food chain as rock stars and Hollywood actors.
Unfortunately, these fancy news stories tend to contribute to myths on how to become a tech entrepreneur. The characterization of their personalities sometimes distorts how people perceive the tech sector and its function. This article looks at some of those misleading ideas that can derail your journey as you plan your tech venture while offering some tips on how to succeed as a tech entrepreneur.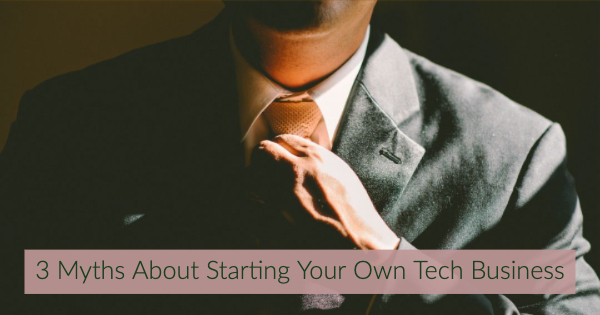 Myth 1: As boss, you can do what you want
Part of the misconception on how to become a tech entrepreneur is the idea that being your own boss makes life easier. That is probably because most high-profile people in the technology business seem to have an easy time. It may seem like all the heads of tech companies do is to give orders.
However, it is one of the critical entrepreneur's mistakes to jump into this career simply because it seems greener on the other side. You need to remember that business requires a lot of work and planning. During the initial stages of the startup, the head of the organization must be careful not to neglect the core responsibilities. That means you may have to work for longer hours than you did at your previous job.
You should commit fully to making your idea a reality. It will involve a lot of research, understanding the market, setting up the business, and finding a business partner. That is why it is always advisable to start an initiative that revolves around something you truly love. Passion will keep you going when the journey gets tough.
Myth 2: You need a completely unique idea
Another myth on how to become a tech entrepreneur is that you need a completely new idea for the market. As they say, there is nothing new under the sun. Many of the earth-shaking ideas that have taken over the technology industry today were innovative tweaks to existing products.
Some of the most successful startups were set in motion by observing an existing gap in the market. For example, Lynda Weinman was teaching web design when she realized her students could only access bland and plain textbooks. She began working on Lynda.com to provide online tutorials that were more engaging. She would later sell the company for $1.5 billion to LinkedIn.
You can also combine a set of skills to address a pressing need. For example, Shutterstock founder Jon Oringer was a software developer who enjoyed photography as a hobby. He used his collection of photos to start a stock image website that is now worth more than $2 billion.
Myth 3: You have to be a reckless risk-taker
Another myth on how to become a tech entrepreneur that tends to discourage aspiring businessmen is that you need to be continuously taking risks. Statistics show many small businesses fail within the first five years. One major cause of failure is lack of planning and cash flow problems.
You need to have a clear outline of your plan that is within safe limits of risk. Do not be tempted to use your mortgage or all your life savings to start a business. It may sometimes be wise to delay quitting your full-time job before you can properly establish your startup venture. Indeed, risk-taking is an important part of running an enterprise. But manage these risks wisely so that you can effectively steer your business through the hard times.
Entrepreneurs can get caught up in the fantasy of being the CEO. To avoid this pitfall, focus more on the nuts-and-bolts of your business, rather than fancy ideas about your business. That way, you will have the right mindset, which will help you avoid myths, misleading notions, and common entrepreneur mistakes.