Did you know that there are 582 million entrepreneurs across the globe? While this means that those of you who are interested in becoming entrepreneurs have a lot of people to lean on and relate to, it also means that there is a good deal of competition to worry about. It can be difficult to stand out as someone starting a new business in this day and age, especially if that business relates to the tech industry in some way. Tech entrepreneurs have a lot of opportunities that they can take advantage of, but they need to present unique opportunities to potential business partners, employees, and investors in order to be successful.
Part of the issue for tech entrepreneurs is standing out in the sea of other entrepreneurs. In this day and age, much of the conversation regarding tech is, predictably, taking place online. That is why we're looking into some of the ways that the digital entrepreneur can make themselves stand out on the internet. Yes, there are millions of people vying for the attention of a comparatively small consumer base. But with the right tactics, your business could be the one that becomes most prominent.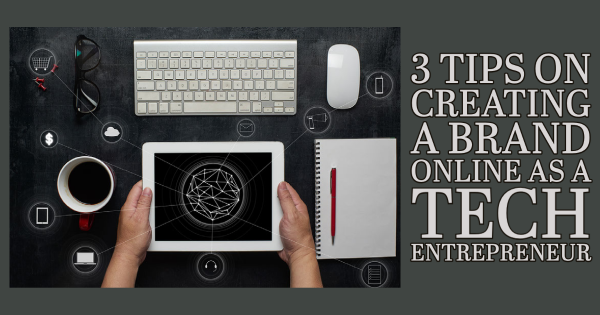 1. Start a Blog
Perhaps one of the best way ways for a tech entrepreneur to stand out online is for them to start a tech entrepreneurship blog. This kind of blog can be started at any point in the entrepreneur's career. You could begin blogging when you first start to conceptualize your business, chronicling your adventures in the early days of becoming an entrepreneur and following its ebbs and flows in a very personal way. Conversely, you could create a very glossy and attractive story for your business through your blog, using it more purely as a kind of branding tool.
Either way, tech entrepreneurship blogs are remarkably flexible and appealing marketing outlets. Not only can they be utilized for SEO purposes, making your business easier to find for consumers; they can also play a part in creating your brand's story. What is important is that the blog offers entrepreneurs a way to make themselves and their ideas easily available to the public at large.
2. Engage with Social Media
There is a wealth of social media platforms available in this day and age, and one of the best tips for entrepreneurs in general, not just tech entrepreneurs, is to take advantage of them. No matter what area of the tech industry you wish to specialize in, there is a social media platform that will somehow correspond to it. Facebook is often used by families, while Twitter appeals more to a younger and more individualized audience. Instagram is full of influencers and is ideal for more visual businesses.
Similarly to tech entrepreneurship blogs, social media allows a lot of opportunities for branding and creating a voice. It also allows clients and consumers, in general, to feel as if they can easily voice questions and concerns. In a sense, a social media account allows consumers more direct access to businesses and ultimately creates a more personalized experience.
3. Create an Attractive Website
What makes one website appealing where others may not be? This can be a difficult question for entrepreneurs to answer, which is why working with a digital marketing agency can be so helpful for many of them. While a tech entrepreneurship blog can be an aspect of a polished website, it's only a single part. Websites must also be both attractive and easy to navigate.
There are plenty of other websites that can offer the same resources as yours, no matter how unique the information you focus on seems to be. Therefore, it's important that your website is not only visually appealing but streamlined and efficient. The only way this can be done is through the utilization of professional web designers and marketers.
While it can be difficult for tech entrepreneurs to stand out in the crowd, it's not impossible. With the right approach, a tech entrepreneur can build their brand online even before their business launches.