Female entrepreneurship and female-owned businesses are among the fastest-growing segments of the economy. According to data from Kauffman, women make up 40% of new entrepreneurs in the U.S. and the number of new businesses owned by women is increasing at twice the rate of those owned by men. There are many reasons for this.
Some of this reflects a general shift in the economy with large companies hiring contractors rather than employees. In fact, as many as 20% of workers are now contractors rather than employees. Moreover, businesses have recognized the efficiencies of outsourcing some functions, such as payroll, that were formerly handled in-house.
However, there are other, more personal reasons for women to try entrepreneurship. Here are five of them:
Address Inequities
It is an unfortunate fact that women are paid less than men for the same work. There are many social and economic reasons for this inequity but women are paid less even when pay is normalized according to hours worked, education, and experience. Similarly, women tend to be hampered in their advancement. The CEOs of the largest companies are disproportionately male.
One way women can address these inequities is starting their own businesses. This allows market forces, rather than a supervisor, to decide the entrepreneur's value. Moreover, advancement and growth will be determined by the merits of the business instead of the gender of the entrepreneur.
Maintain Life Balance
Over 60% of caregivers are women and over half of these caregivers are employed. Whether they are caring for elderly relatives or young children, these women have to balance their work life and home responsibilities. Although one of the most common entrepreneur mistakes is to assume that you will work less when you are your own boss, it is true that most entrepreneurs have more control and flexibility in their work life.
Technology plays a large part in this level of control and flexibility. Common entrepreneur tips include using mobile devices and wireless Internet access to make yourself available to your employees, customers, and business partners when you are unable to be present in person. However, many make themselves available on a set schedule. A set schedule allows you to meet your personal responsibilities as a caretaker for others and yourself. The flexibility of being an entrepreneur allows you to take care of yourself both physically and mentally so that you are at your best when running your business.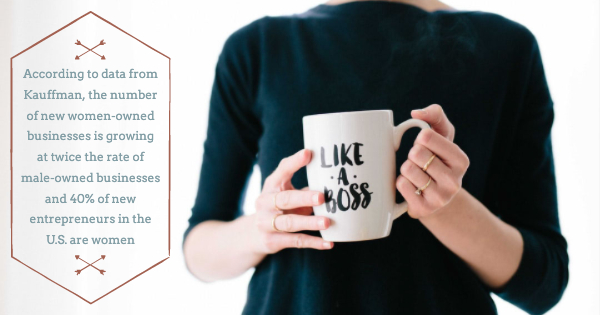 Work Collaboratively
Women overwhelmingly choose to work collaboratively rather than working solo. Again, there are likely many social and psychological reasons for this.
Women entrepreneurs can satisfy this tendency in two ways.
A business's culture flows from the top down. A boss who is more collaborative and encourages collaboration creates a corporate culture of collaboration rather than competition among her employees. A collaborative environment is more creative, less stressful, and more productive. Tech entrepreneurs have recognized this for decades, incorporating collaborative tools into their product development process.
A business that can work with other businesses and customers is more likely to find or invent creative solutions to problems than a business that has a "my way or the highway" attitude. Tech entrepreneurs, in particular, benefit from employees' ability to find creative solutions to customers' problems.
Creativity
Entrepreneurship encourages and rewards creativity. Very few, if any, entrepreneurs start a business to do things exactly the same way as their competitors. One could go so far as to say that step one of "how to start a business" is to figure out what your competitive advantages are. If you are a tech entrepreneur, maybe it is new technology, better personnel, or less expensive products.
Established businesses and their legacy approaches can stifle the creativity of their employees. By becoming an entrepreneur, women can work with the people they choose and approach the business the way they want.
Encourage Other Women
Whether it is through hiring women or by providing entrepreneur tips to budding women entrepreneurs, entrepreneurship provides a pathway for encouraging other women. Tech entrepreneurs, in particular, are largely male. Women tech entrepreneurs can provide a role model for other women to emulate.
Women entrepreneurship is growing by leaps and bounds for many reasons including overcoming inequities, working creatively and collaboratively, and encouraging other women.