Right now, there are a lot of people who are interested in starting a business in the tech field. This is especially true in light of the pandemic, which has a lot of people working from home. Of course, those who are working from home are relying upon technology to do their jobs and even to stay in touch with friends and connect with the outside world. Subsequently, it may be the right time to jump on launching your tech business into the stratosphere.
But how do you do that? For a lot of people, the key is finding the right tech entrepreneur partner to help them take their business from a vision to a reality.
As much as creating a business partnership can be exactly what your business needs to succeed in the long term, it can also cause you to fail if you don't choose the right business partner. Right now, about 22.5% of all small businesses will fail within their first year. That often happens because tech entrepreneurs trust the wrong partners. And that's why we're looking into what you should consider when evaluating potential business partners. Here are just a few questions to ask yourself as you go through this process.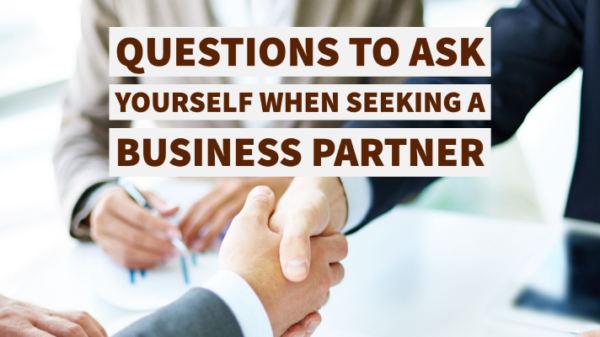 Are They Passionate About Your Business?
If you're interested in creating a business partnership, chances are that you are the one who started the business and that you're now looking for someone to help you take it to the next level. Whether you're interested in a more financial partnership or in taking on a partner who wants to have an active role in the business, you need to find someone who is passionate about your organization. They can take a backseat in the creative process, but they need to believe in what you're doing and be available to help.
Part of the reason why this matters is that your business partner will likely be involved in making big decisions and recruiting investors. It can be especially difficult for investors to funnel money into your business if they don't feel like your partner believes in the business as much as you do.
Are They Reliable?
Now, there is such a thing as being too passionate — or having a directionless passion. Some potential business partners are just excited about the rush of signing onto a new business, but they aren't as interested in seeing it through for the long term. Other partners are also involved in too many other businesses to give yours the attention it deserves. It's one thing to be involved in a couple of different businesses, but it's another to be spread so thin that you can't make good on your commitments.
Successful tech entrepreneurs need to have a lot of focus. They also need to have reliable business partners who can make themselves available and do the work when necessary. A lot of this will depend on the partnership you agree to in the beginning. Some partners will not need to be very present; if you laid this out when creating a business partnership, you'll have to stick to those terms. But your business partner should be reliable according to the partnership the two of you built. Otherwise, you may end up creating even more work for yourself without the help you actually need.
Are You Compatible?
When creating a business partnership, you'll discover that it's much like any other relationship. You need to be compatible with the person with whom you're working. This doesn't necessarily mean that the two of you have to be best friends. But you should have the same basic business styles and the same long term goals for your company. Your business partner should have the ability to build a strong relationship — not just with you, but with the other people working on your business. Take the time to get to know your potential partner before leaping into a long-term commitment to ensure compatibility.
Can They Take Risks?
There's no getting around it: starting a business means taking risks, both personally and financially. If your business partner is not ready to take risks, they may not be the right partner for you. Be upfront about the risks your business will involve. The last thing you want is someone partnering with you and then bailing later. Don't take it personally if they're not up to the challenge. Instead, be thankful you found out before you reached an agreement and continue your search.
Finding a good business partner is a lot like finding a life partner. It might take you a long time to find the right one and you'll need to be selective. But once you find that right person, it can change your life!