Not too long ago, the United States was a place where women's rights were severely limited. They were expected to maintain the role of wives and mothers and weren't even allowed to vote. However, women's rights movements have carried the U.S. to a point where the female population is becoming more and more empowered. They are becoming entrepreneurs and paid international speakers who are striving to make a difference in the world. They are speaking up about their thoughts and ideas and paving the way for the girls who will follow them.
Data from Kauffman shows that 40% of new U.S. entrepreneurs are females, with the number of new female-owned businesses progressing at twice the rate of male-owned businesses. If these rates continue, it's possible that women could take over the majority of new businesses in the United States. With the ability to blog, create online business spaces, and reach millions of other women like them, it's easier today than it has ever been for females to break into the world of business.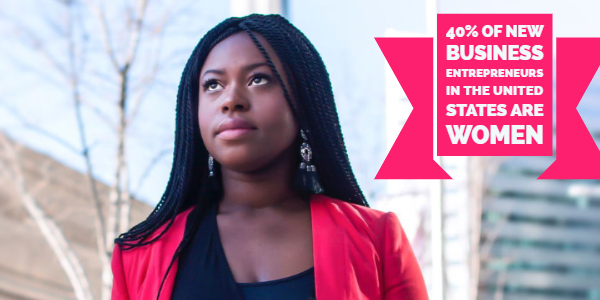 Blogging
While the ratio of female to male bloggers is pretty evenly split, women do have the higher percentage in this category. Everything from beauty blogs to tech entrepreneurship blogs can be run by women. Blogs provide a way to reach out to the billions of people who have access to the internet and have multiple different avenues for monetization. They're a great place to start for launching a small business and making connections. They also offer opportunities for lead generation.
This form of marketing and customer connection allows females to create their own platform. They control every detail and are able to take their new ideas and run with them. It gives women of most classes and experiences the ability to reach out to the rest of the world and put their thoughts out there. Whether they wish to run a tech entrepreneurship blog or just want to share their life experiences as a life coach, many get their start with blogging.
Public Speaking
Another way that women are making connections and boosting their new businesses is through the use of public speaking. They are sharing their knowledge and experience with others at places such as schools, conventions, and more. They are helping others like themselves learn and grow, which in turn allows their business to grow.
To be a successful international speaker, you have to have something to offer that people want to hear. These women know they have a message that is worth putting out into the world. They know that the right people will listen and they use those opportunities not just to grow their business, but to help others.
Creating Better Lives
Many women turn to these forms of entrepreneurship because they want to improve their own lives and the lives of others. They want to create a life that allows flexibility, a chance to challenge themselves, and a way to make a difference for others. Some are your everyday women who start out studying tech entrepreneurship blogs for inspiration, while others have an idea that they know they want to put out into the world.
Wherever these women start, they are taking the world of entrepreneurship by storm. They are consistently creating new ideas and sharing their knowledge with the world. Things may not be perfect for women in today's world, but they have made a great deal of progress. Women have the right to make their voice heard and share their ideas. They are doing so every day as the owners of their own businesses.