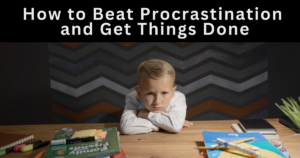 Procrastination is the thief of time. It can hold you back from achieving your goals and living your best life. But there is good news: you can beat procrastination and get things done.
Identify your triggers. What are the things that make you procrastinate? Once you know your triggers, you can start to avoid them or develop strategies for dealing with them. For example, if you tend to procrastinate when you're feeling overwhelmed, break down your tasks into smaller, more manageable steps.
Set realistic deadlines. It's important to set deadlines for yourself, but make sure they're realistic. If you set a deadline that's too ambitious, you're more likely to procrastinate.
Reward yourself. When you complete a task, reward yourself with something you enjoy. This will help you stay motivated and keep moving forward.
Get an accountability partner. An accountability partner is someone who can help you stay on track and motivated. They can check in with you regularly and offer support and encouragement.
Here are some additional tips for beating procrastination:
Start with the hardest task first

. This may seem counterintuitive, but getting the hardest task out of the way first can give you a sense of accomplishment and make it easier to tackle the rest of your to-do list.

Eliminate distractions

. When you're trying to focus on a task, turn off your phone, close your email, and find a quiet place to work.

Take breaks

. It's important to take breaks when you're working on a task, but don't let your breaks turn into procrastination sessions. Set a timer for 10-15 minutes and get up and move around when the timer goes off.

Don't be afraid to ask for help

. If you're struggling to complete a task, don't be afraid to ask for help from a colleague, friend, or family member.
Procrastination is a common problem, but it's one that you can overcome. By following the tips above, you can learn to beat procrastination and get things done.
What is one thing you can do today to beat procrastination and get started on your most important task?