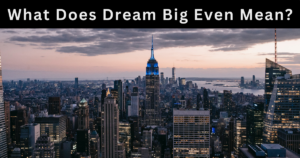 Dreaming big is often encouraged, but what does it actually mean?
Dreaming big doesn't necessarily mean having a multi-million dollar business or a lavish lifestyle. It's about setting ambitious goals for yourself and working hard to achieve them. It's about believing in yourself and your ability to make a difference in the world.
What dreaming big looks like will vary from person to person. For some, it may mean starting their own business or becoming a successful entrepreneur. For others, it may mean making a significant impact in their community or field of work. And for still others, it may simply mean living a fulfilling life that they are proud of.
No matter what your dreams are, it's important to remember that anything is possible. If you can dream it, you can achieve it.
Here are a few tips for dreaming big:
Identify your passions.

What are you passionate about? What do you love to do? Once you know what your passions are, you can start to think about how you can turn them into a career or a lifestyle that you love.

Set specific goals.

Once you know what you want to achieve, set specific goals for yourself. What do you need to do to reach your goals? Break down your goals into smaller, more manageable steps.

Take action

. Don't just sit around and dream about your goals. Start taking action towards achieving them today. Even small steps can make a big difference in the long run.

Don't be afraid to fail

. Everyone fails at some point in their lives. It's part of the learning process. Don't let the fear of failure hold you back from dreaming big.

Surround yourself with positive people

. The people you spend time with can have a big impact on your mindset and motivation. Surround yourself with positive people who believe in you and your dreams.
Dreaming big is an important part of living a fulfilling life. It gives you something to strive for and helps you stay motivated. If you have dreams, don't be afraid to go after them. Anything is possible if you set your mind to it.
What is one small step you can take today towards achieving your dreams?