On our entrepreneurship blog, we previously shared some tips for picking the right business partner. But one of the most obvious options when finding a business partner is to look to your existing friends. After all, your best friend may know you better than anyone and share your passions, making them a natural fit for your business. But while this may seem like a great idea in the beginning, it can turn out to be one of the biggest entrepreneur mistakes you'll make.
Ultimately, the choice of whether to go into business with a close friend is up to you — and whether or not it will succeed depends on a number of factors. But if you're wondering how to start a business with your BFF, here are a few considerations to keep in mind before you forge ahead.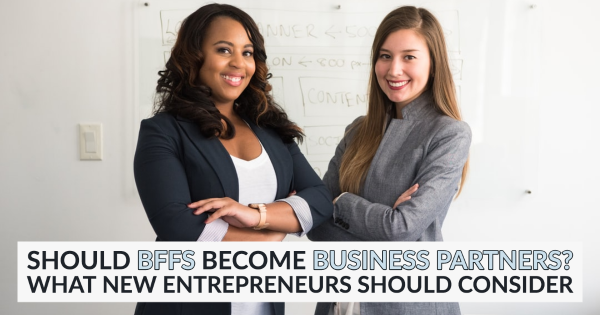 You Can Build a Business Based on Trust and Common Interests
If you attempt to find a business partner out of the blue, it can be tough to figure out who you can trust. If you entrust the wrong person, you could end up getting burned. While that still may be true for friends who go into business together, your existing relationship can mean that you don't have to waste time getting to know each other and your respective business styles. What's more, you'll probably have a better idea of what your friend is passionate about and will know whether emotional buy-in already exists. Not only will your friend want your business to succeed for their sake, but they'll also be invested to ensure you succeed.
Your Friend Can Provide Balance and Create a More Complete Partnership
One of the most important tips for entrepreneurs is that you should pick a business partner who can offer what you can't. If you decide to go into business with a friend, you're probably already very familiar with their main strengths and weaknesses. If you know that they excel in places you lack, this can actually be of huge benefit to your venture. As part of your partnership, the two of you will provide a sense of balance to each other and bring out the best in each other. That's assuming, however, that this is the dynamic of your friendship. If you frequently find yourself in a spat with your friend or you're too much alike, this may not bode well for your business. If you team up with a friend, make sure that their temperament and business style complements yours and makes up for what you may not have.
Business Partnerships Based on Friendship Have Higher Stakes
Although 80% of small businesses started n 2014 made it to their second year, there's no guarantee that your business will survive. And if your business fails, it's also possible that your friendship could end as a result. Working together can bring out other sides of each person; if you don't have a solid plan in place to ensure communications are productive, it's possible that working together could damage your friendship. If you do decide to go ahead and go into business together, make sure you're both on the same page about the state of your friendship and come to an agreement to keep work and personal lives separate.
As our entrepreneurship blog shows, going into business isn't an easy task. And while starting a venture with your friend can be an excellent idea, it's one that should be carefully considered first. For more tips and tricks for startups and visionaries, check out our entrepreneurship blog.