Finding a business partner can be incredibly challenging, especially when you're first starting out as an entrepreneur. In fact, many people starting their own businesses skip looking for a business partner altogether. However, this is perhaps one of the most significant common entrepreneur mistakes you can make.
While some businesses can be handled by a single person, most benefit from having at least two people involved. Even if this isn't the first business you've ever owned, you should still consider finding a business partner. However, even if you have an attractive opportunity available that catches the attention of multiple potential business partners, just as important as finding a partner in the first place is selecting the right one for you and your business.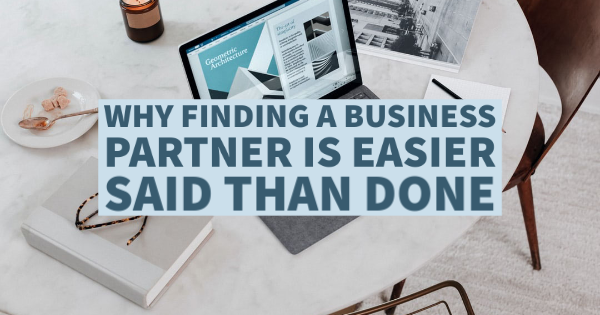 The consequences of partnering up with the wrong person can be steep. After all, finding a business partner essentially means sharing your business with someone. The success or failure of your business could very well be dependent on the person you end up working with. It's no wonder why so many of the top entrepreneur tips surround finding a business partner that will really work with you, rather than making you work for them. A business partner isn't an employee, but someone who has reason to invest personally and financially in the business, and really believes in it. With that being said, let's look into what you should consider when searching for your business partner.
What Kind Of Business Partner Are You Looking For?
A business partner can fulfill many different roles. One of the main reasons why people get a business partner is funding. After all, 82% of small businesses fail due to a lack of cash. With that being said, taking too much money from one partner often requires giving up a good amount of equity in the business, which can be difficult to do in the beginning. Sometimes, a business partner is taken on more for their knowledge and creative input, or even their specific skills, such as marketing. It's a good idea, if you're a brand new entrepreneur, to look for a business partner with connections. These kinds of connections, as well as the experience your business partner offers, will make growing your business much more accessible, even if it remains a challenge.
How Should You Seek Out A Business Partner?
When it comes to avoiding entrepreneur mistakes, many business experts will advise against choosing a friend or family member as your business partner. There are a number of reasons for this; many people will overlook mistakes or flaws from people they care about, while they can be more clear-eyed with people they share more professional relationships with. You may want to, with this in mind, look into your former or current pool of coworkers, especially if your new business falls into the same industry as your current career. Furthermore, it's easy to understand the habits of your coworkers, and you can expect them to act similarly when working with you as a business partner. You should also look into networking beyond your job, online, or through people you know professionally. If your current circle isn't really up to this task, consider taking a class that relates to its industry, or attending a workshop. That's a great way to make connections, and perhaps find your future business partner.
What Should You Look For In A Business Partner?
While it's important that you and your business partner work well together professionally and match one another in terms of skill, you'll also need to make sure that your personalities mesh well. You don't want someone who is afraid to offer differing opinions or is a complete echo chamber. However, it's important that they're largely consistent with you, and can offer dissent in a mature, measured manner. Ideally, your business partner may have experience similar to yours, but not exactly the same. You'll want somebody who can offer something different than what you bring to the table on your own, as this will offer the business a more diverse set of skills behind the scenes.
There are many benefits to having a business partner; sometimes you'll need one. Just be careful about who you choose.